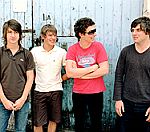 Past and present members of the
Arctic Monkeys
are reported to be on the verge of buying a pub in their hometown of Sheffield.
Drummer Matt Helders and former bassist Andy Nicholson are said to be keen in investing in The Bowery, which is due to open on September 20th.
According to a report in the Mirror newspaper, the venue will provide a place for the band to relax, in addition to being used as an outlet for Helder's Supreme Being clothing range.
"Matt and Andy have had their eye on setting up a pub for ages. When the property came on the market they had to have it," a source told the newspaper.
"It's perfect, Matt puts in most of the money and Andy can DJ there and manage it when Matt is off touring. All the lads can relax there and bring their mates."
As previously reported, Queens of the Stone Age frontman Josh Homme revealed last weekend that he is to produce new material for the group.
(by Jason Gregory)