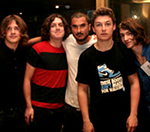 Arctic Monkeys
have revealed that they recruited Queens Of The Stone Ages' Josh Homme to sing on their new album.
The frontman, who produced a majority of the tracks on the band's 2009 album 'Humbug', sings backing vocals on new album track 'All My Own Stunts', Arctic Monkeys told Q.
Describing 'Suck And See', Alex Turner said: "We wanted it to be song-based this time. We used to always try and not go down that route before, because it had been done. But there's a reason why they're the classic structures."
'Suck It And See' is set for release on June 6.
Meanwhile, Eminem and Arctic Monkeys will headline this year's V Festival, it's been announced.
(by Holly Frith)