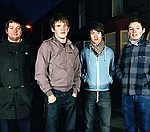 Arctic Monkeys
will release their new single for Record Store Day.
The track, entitled 'Don't Sit Down 'Cause I've Moved Your Chair', is the first single to be taken from the band's anticipated new album 'Suck It And See'.
Arctic Monkeys will release the single on exclusive white label 7" along with album track 'Brick By Brick' for Record Store Day on April 16.
The band recorded the follow-up to 2009's 'Humbug' in Los Angeles with Simian Mobile Disco producer James Ford.
As previously reported, Arctic Monkeys will play two huge hometown gigs in Sheffield at the Don Valley Bowl this summer.
The band are also scheduled to headline the V Festival in Chelmsford and Staffordshire alongside rapper Eminem.
(by Holly Frith)