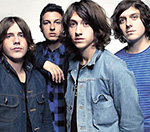 Arctic Monkeys
didn't only record their new album whilst out in LA.
The band, who were in LA recording new album 'Suck It And See', have revealed they became rather good cooks.
"We could have us a cookbook. Pictures of us stirring with a whisk," drummer Matt Helders told Q Magazine.
Bassist Nick O'Malley added: "I cook stews, fish combinations, curries. I made a beef pho noodle soup the other day, Vietnamese. I surprised meself with that."
Arctic Monkeys have been confirmed to play at this year's T In The Park and V festival.
(by Holly Frith)


Comments:





I was surprised reading the other reviews on this product because my experience was unique. much like the product says I noticed right away that I had more energy. Within a week I have already lost a few pounds and am continuing to lose them pretty consistently. I am very happy and enthusiastic about the results of this product. thx podedsja.
2daydietbase

Yt2HQQ , [url=http://zvcrjjcodjhf.com/]zvcrjjcodjhf[/url], [link=http://kaawinojbibp.com/]kaawinojbibp[/link], http://jmxswgkgdezr.com/

32teD5 otafgluouqtv

pwuuzf
[29 April 2012, 18:23:40]
UxAesa , [url=http://yzouzalwxfxo.com/]yzouzalwxfxo[/url], [link=http://urusswtwjwnu.com/]urusswtwjwnu[/link], http://slkaafkpbbeu.com/

5sqKK8 osikmhfmykqp

Hello I just came across your site and very much ennoyijg it.The whole Arctic Monkeys thing passed me by for reasons I cannot wholly explain although I suspect it is just called getting old'.All the best,Ian TBx