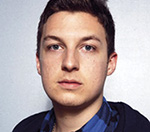 Arctic Monkeys
' Matt Helders lost out on a 40,000 pounds after a recent incident at his pub, it has been reported.
The drummer, who owns Bowery Bar in Sheffield, was left devastated when his staff bought a rare bottle of rum for 70 pounds not knowing its actual value was 40,000 pounds.
The two hundred and fifteen year-old Henry Jefferson of Whitehaven rum was drank by staff who had no idea of its value, reports The Sun.
A source said: "Bar staff were mortified when they found out what they had done. Later on that night everyone was talking about it including Matt, Alex [Turner] and [ex-bandmate] Andy Nicholson. Everyone was shocked but found it pretty funny - except the manager who runs the pub for Matt."
The Bowery Bar posted a massage on their Facebook page about the incident: "So it's now on YouTube and we're doing a lot of research, all the industry experts seem to agree that we've opened a bottle of booze potentially worth about 40 grand... F*ck."
Meanwhile, Arctic Monkeys have debuted their new single 'Don't Sit Down 'Cause I've Moved Your Chair'.
(by Holly Frith)