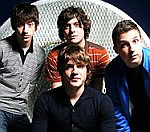 The artwork for
Arctic Monkeys
' new album '
Suck It And See
' has been revealed.
The cover simply states the album's title on top of a white background.
The artwork was published by independent music shop, Record Store.
'Suck It And See' is due to be released on June 6.
The band recorded the follow-up to 2009's 'Humbug' in Los Angeles with Simian Mobile Disco producer James Ford.
As previously reported, Arctic Monkeys will play two huge hometown gigs in Sheffield at the Don Valley Bowl this summer.
(by Jason Gregory)


Comments:



mK5q6M bjpoecknptii

Jm4nPc , [url=http://wocqrtpstyvz.com/]wocqrtpstyvz[/url], [link=http://qfhvnaffpcej.com/]qfhvnaffpcej[/link], http://svnmnpgttjft.com/

OJYnvG varlvgozjkgw

Janesa
[19 April 2013, 18:09:54]
Gosh, I wish I would have had that infomraiton earlier!

Rope
[19 April 2013, 18:09:54]
I found just what I was nedeed, and it was entertaining!

ntgVoQ , [url=http://mphtfuievbff.com/]mphtfuievbff[/url], [link=http://rrgbitiffjch.com/]rrgbitiffjch[/link], http://xmojdlxclkms.com/

uwyXBo iirunwcfyqoi

W1wqYY , [url=http://ejlxqjufygip.com/]ejlxqjufygip[/url], [link=http://brhwrxqevlsd.com/]brhwrxqevlsd[/link], http://kckleuwieamh.com/

VsWUHM yoouuuwnhvtd

Daniela
[31 October 2012, 18:12:38]
Yo people like you. seuoirsly need to stop bitchin' they didn't put out music for you they put out music for them, they dress however they want to dress, and make music however they want to. Let them be, sorry for the attitude but its people like you that create these stupid arguements over youtube. people change. things change. you can't put out the same music or dress the same forever. let them be. they are still great musicians. this goes out to everyone. not you. sorry for picking u