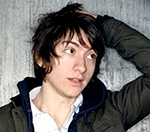 Arctic Monkeys
'
Alex Turner
has revealed that he wants to write the soundtrack for the next James Bond film.
The frontman, who has just written the soundtrack to Richard Ayoade's directional debut 'Submarine', says that he would love to feature on the next Bond soundtrack.
"I don't think of this (Submarine) as a soundtrack. I just wrote a few tunes and they happened to fit. I don't think I'd be very good at doing the soundtrack for Transformers for anything like that," Turner told BBC 6 Music.
When asked about writing for the Bond soundtrack he added: "Well that's a different story. I'd love to do a tune for Bond. Definitely."
Meanwhile, Arctic Monkeys have announced details about their fourth album, 'Suck It And See', due to be released on June 6.
(by Holly Frith)