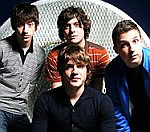 Arctic Monkeys
have announced details about their fourth album, '
Suck It And See
', due to be released on June 6.
The album features 12 tracks, including the recently released 'Brick By Brick', and was produced by by James Ford at Sound City Studios in Los Angeles.
'Suck It And See' will be available on CD, vinyl and digital download.
As previously reported, Arctic Monkeys will play two huge hometown gigs in Sheffield at the Don Valley Bowl this summer.
The band are also scheduled to headline the V Festival in Chelmsford and Staffordshire alongside rapper Eminem.
The tracklisting for 'Suck it And See' is:
She's Thunderstorms

Black Treacle

Brick By Brick

The Hellcat Spangled Shalalala

Don't Sit Down 'Cause I've Moved Your Chair

Library Pictures

All My Own Stunts

Reckless Serenade

Piledriver Waltz

Love Is A Laserquest

Suck It And See

That's Where You're Wrong
(by Jason Gregory)