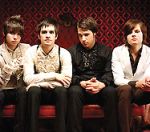 Panic At The Disco
say their new album has helped to distance them from the emo genre.
Speaking to BBC Newsbeat, the band said that 'Pretty. Odd.', which was released earlier this year, had stopped many journalists from asking them about emo.
"With this new record our main goal was to make people open their eyes and view us as a band and not really as a specific trend," they explained.
The band also spoke about their recent performance at the Glastonbury Festival, saying their experience at Worthy Farm in Somerset was "really muddy but it was a lot of fun."
"It was kind of the exact thing you would think. Driving in that day and seeing all the tents, all the people, all the stages. It was really amazing to be part of that," they said.
"We don't really have a festival in the US that compares to something of that length or that many people."
(by Jason Gregory)