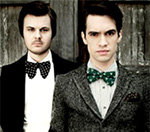 Panic At The Disco
have revealed that
Arcade Fire
's '
The Suburbs
' was a huge inspiration whilst making their new album.
The band, who return later next month with the follow-up to 2008's 'Pretty. Odd', which is called 'Vices And Virtues', spoke to Gigwise about their new album and recording process.
"Arcade Fire's album was a huge inspiration for us whilst recording, it's such a phenomenal record," frontman Brendon urie said.
"Especially when we were in the song writing process, towards the end listening to that record became really frustrating."
He added: "I wanted our album to sound as good as that. It was inspiring as it made us want to work harder."
Panic At The Disco will play a one-off gig in London tonight (February 8) in support of their forthcoming new album.
(by Holly Frith)