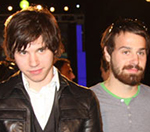 Two key members of
Panic At The Disco
have walked out of the group to pursue their own separate ventures.
Guitarist Ryan Ross and bassist Jon Walker have quit the group, with Ross working on solo material, but remaining members Brendon Urie and Spencer Smith have urged fans not to, erm, panic.
Urie and Smith say they will honour their upcoming summer shows with Blink 182 and No Doubt and claim they're excited for the future.
A statement from the pair says: "Though the four of us have made music together in the past, we've creatively evolved in different directions which has compromised what each of us want to personally achieve.
"Over the years, we have remained close and honest with each other, which helped us to realise that our goals were different and that parting ways is truly what is best for each of us. We are all excited for the future, you should be too."
(by Scott Colothan)