July 1, 2008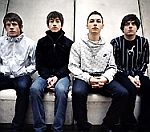 Arctic Monkeys are to begin work on their third album this month, according to the band's guitarist Jamie Cook. "We are gonna make a start... (we'll) get back in his (Alex Turner) room in Sheffield and start writing some tunes," he told the BBC.
Read more >>

July 1, 2008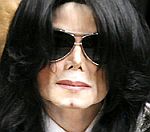 A new song by rapper Akon which features guest vocals from Michael Jackson has appeared online. The song, entitled 'Hold My Hand', is understood to be the product of the pair's recent studio collaboration.
Read more >>

July 1, 2008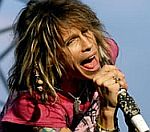 Aerosmith frontman Steven Tyler has admitted that he entered rehab last month because he had become dependant on painkillers. Tyler had previously claimed that he checked into Aurora Las Encinas Hospital in Los Angeles in order to find a "safe environment" to recover from surgery on his feet.
Read more >>

July 1, 2008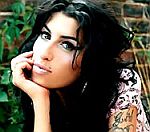 Amy Winehouse has been discharged from The Clinic in London and will continue treatment as an outpatient, according to her spokesperson. Winehouse returned to the medical facility in Marylebone on Saturday (June 28th) evening following her appearance at the Glastonbury Festival.
Read more >>

July 1, 2008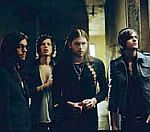 Kings of Leon have admitted that both age and more experience have helped them tackle political issues on their new album. The record, entitled 'Only By The Night', is due to be released on September 22nd and is the follow-up to 2007's 'Because of the Times'.
Read more >>

July 1, 2008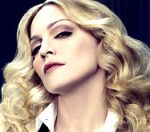 The Detroit home that Madonna lived in as a child has been destroyed by fire. Police believe the fire, which is being treated as a suspected arson attack, began in the living room and quickly spread through the property.
Read more >>

July 1, 2008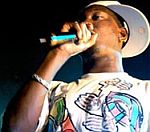 South London Rapper Dizzie Rascal is reportedly leading the mid week single chart. New single, 'Dance Wiv Me', the first to be released on his Dirtee Skank Label, is beating current number one, Ne Yo, by 5,000 sales.
Read more >>

July 1, 2008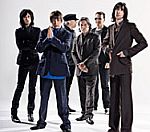 Primal Scream are to give fans who pre-order their forthcoming album through iTunes the chance to get tickets for their next tour, first. Those that pre-order will be sent a special link to a pre-sale, before the tickets go on general release.
Read more >>

July 1, 2008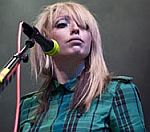 Following their packed out appearance at Glastonbury, The Ting Tings have announced a massive new tour. The band will play a full 15-date tour around the UK to support their number one selling album 'We Started Nothing'.
Read more >>

July 1, 2008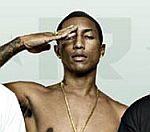 US producer Pharrell Williams has claimed that he is to cultivate new skin in order to get fresh tattoos on his body. The N*E*R*D star said he was bored of his current tattoos and has decided to take the drastic action so that he can start again.
Read more >>

July 1, 2008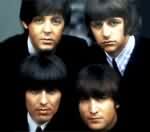 A lost interview with the Beatles has been found In a Garage in South London, where it had remained hidden for 30 years. The recording, which was originally made for Scottish T.V in 1964, is due to be played on BBC Radio Four at 1:30 pm today (July 1st).
Read more >>

July 1, 2008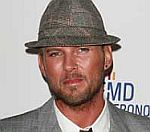 Eighties boy band Bros could be on the verge of reuniting for a special tour, it's been revealed. Singer Matt Goss said that the group's other members – his brother, Luke, and Craig Logan – were "all up for it".
Read more >>

July 1, 2008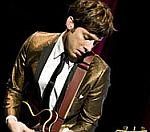 Mark Ronson has responded to the row between US rappers P Diddy and Jay-Z over which one of them discovered the producer. Jay-Z was recently quoted as saying that neither him or P Diddy could agree over who had discovered the Brit-born Ronson, who grew up in New York.
Read more >>

July 1, 2008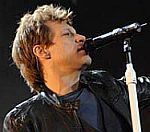 Veteran stadium rockers Bon Jovi have announced they are to play New York's Central Park for free this summer. The show is being held in conjunction with a Major League Baseball All-Star Game, which is set for July 15th at Yankee Stadium.
Read more >>

July 1, 2008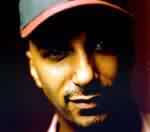 Rage Against The Machine guitarist Tom Morello is set to release a second solo album called the 'Fabled City'. The follow up to his debut 'One Man Revolution' released under the alias The Nigthwatchman will include contributions from System of a Down singer Serj Tankian on several songs.
Read more >>

July 1, 2008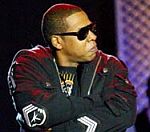 US rapper Jay-Z says he would like to headline the Glastonbury Festival again, following his performance last weekend. "Of course," the rapper replied, when asked in an interview with MTV whether he would consider returning to the Somerset event.
Read more >>