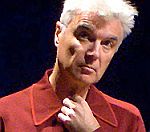 Brian Eno
and
David Byrne
have revealed details on their upcoming release 'Everything That Happens Will Happen Today'.
27 years in the making, the electronic gospel album will be released through the website everythingthathappens.com.
Offering a free download on the track 'Strange Overtones' via the site starting August 4, the full album will be available to purchase and stream on August 18.
David Byrne has also planned several dates in support of the release.
The dates are as follows:
Newport News, VA, Ferguson Center For The Arts – September 18

Atlanta, GA, Chastain Park Ampitheatre – 20

Austin, TX, Austin City Limits Festival – 26

Phoenix, AZ, Orpheum Theatre – 20

San Diego, CA, Humphrey Concerts By The Bay – October 2

Santa Barbara, CA, Arlington Theatre - 4

(by Victoria Tsigonis)







See also:

Brian Eno To Release New Album In November

(23.08.2010)

Brian Eno To Release Album On Warp Records

(02.08.2010)

Дэвид Бирн приглашает в 'музыкальный дом'

(13.05.2009)

David Byrne 'Doesn't Need Money' For Talking Heads Reunion

(25.03.2009)

Coldplay Make Surprise Return To Studio With Brian Eno

(26.01.2009)

Brian Eno And David Byrne To Tour And Record New Album

(17.07.2008)