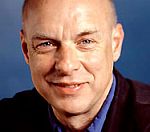 Brian Eno
has signed to legendary electronic label Warp and will release an album later on this year.
Eno, who has tatsted success both working solo and as part of Roxy Music, is rumoured to be working with guitarist Leo Abrahams.
Abrahams is quoted by Pitchfork as saying: "There's an album out soon by Brian Eno, with myself and Jon Hopkins. It contains the fruits of several years of jams between the three of us. I've not heard anything quite like it-- it sounds 'live' and 'alien' at the same time. Some things have been permitted to survive, which only Brian would have had the courage to let go, and it's so much the better for it."
The quotes, taken from Abraham's official website have since been removed.
Brian Eno's official website currently has a holding page in place asking fans to enter an email address to receive further information on the collaboration between Eno and Warp.
(by David Renshaw)