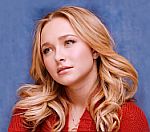 US actress
Hayden Panettiere
, who shot to fame in the television series Heroes, has promised that her debut album will be "eclectic".
Panettiere's album, which is due early next this year, will be preceded by the single 'Wake Up Call', which hits stores on August 4th.
Speaking to Kiss, the actress said her broad sound spectrum comes from having "very different, very diverse" influences, which include Luciano Pavarotti and US rapper Nas.
Panettiere's album has been in production for four years and the star, who plays Claire Bennett in Heroes, said it had already changed a lot.
"Just because my life experiences and who I am as a person is obviously reflected in the music," she explained.
(by Jason Gregory)