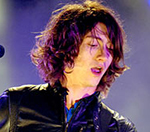 Arctic Monkeys
have announced plans to release new single 'My Propeller' on March 22.
The track, which is the third to be taken from their recent album 'Humbug', will be accompanied by three new songs.
'Joining The Dots', 'The Afternoon's Hat' and 'Don't Forget Whose Legs You're On' will be split across two separate 7" and 10" vinyl.
As with previous releases, the 10" edition of 'My Propeller' will be available exclusively through charity Oxfam's network of UK shops.
Meanwhile, it has also been announced that Arctic Monkeys will perform as part of the Teenage Cancer Trust's 10th anniversary concerts in London next month.
Tickets for the gig, at the Royal Albert Hall on March 27, go on sale on Friday (February 5).
The 'My Propeller' tracklistings are:
7"
My Propeller

Joining The Dots
10"
My Propeller

Joining The Dots

The Afternoon's Hat

Don't Forget Whose Legs You're On
(by Jason Gregory)