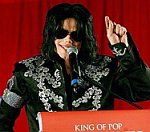 Michael Jackson
makes an appearance in the video for the remake of 'We Are The World'.
The song, co-written by the late singer, has been re-recorded with an all-star line-up for the victims of the recent Haiti earthquake.
In the video, images of Jackson singing the original song are projected alongside his sister Janet.
Other vocalists on the remake include Miley Cyrus, Pink, Mary J. Blige, Akon and T-Pain.
The video for the song was given its world premiere during the Winter Olympics opening ceremony at the weekend.
Meanwhile, Simon Cowell's star-studded charity single 'Everybody Hurts' topped the UK chart on Sunday.
(Gigwise)