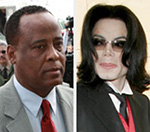 Photos of
Michael Jackson
taken in the autopsy room will be shown at the trial of the doctor accused of causing his death, Los Angeles Judge Michael Pastor has ruled.
The judge sided with prosecutors who said the photos would provide evidence that Jackson was healthy before he died in June 2009.
The defence for Dr Conrad Murray, who has pleaded not guilty to one charge of involuntary manslaughter, had objected to the images being shown.
The images include a picture of Jackson naked but with parts of his body obscured, reports BBC News.
Dr Murray was working with Jackson has he prepared for his ill-fated comeback gigs in London. He could face four years in prison if found guilty.
(by Jason Gregory)