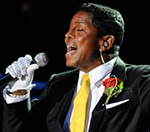 Michael Jackson
's brother Jermaine is set to release an autobiography, it's been announced.
The book, entitled You are Not Alone: Michael: Through a Brother's Eye, will give a candid account of Jermaine's relationship with his late brother.
Publisher Touchstone said it would be "faithful and loving portrait", but one with "no subject off limits."
The book is due to be released later this year, reports the Associated Press, although an official arrival date has not been confirmed.
Sisters Janet and La Toya are also expected to release books this year. Michael Jackson died in June 2009.
(by Jason Gregory)