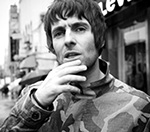 Beady Eye
frontman Liam Gallagher has described the
Michael Jackson
statue recently unveiled outside Fulham football club as "ridiculous".
The statue, revealed by the club's chairman and Jackson's friend Mohammed Al Fayed, has been widely criticised.
Gallagher said he wasn't a fan of the statue, that said "it could be worse".
"It could be Justin Bieber, but that wouldn't be that high then would it so you'd be able to walk over it," he told BBC Football Focus. "I don't know, it's a bit silly isn't it."
Critics of the Jackson statue included Manchester United's Rio Ferdinand, who said a statue should have been erected for a famous ex-Fulham player.
Al Fayed said people who didn't like the statue could "go to hell". Jackson died in 2009 aged 50.
(by Jason Gregory)