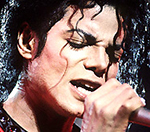 Mohamed Al Fayed has been offered a role in a new musical about
Michael Jackson
.
The former Harrods owner and chairman of Fulham football club came under fire earlier this month when he unveiled a statue of the late singer outside the club's stadium.
David King, executive producer of the US musical Man In The Mirror, said he wanted Al Fayed to have a singing and dancing part.
"He's come in for a bit of stick over that so I would like to give him the chance to share his passion with fellow fans," King told The Sun.
"I'm not sure what his dancing is like but our choreographers can certainly help him brush up on his moves."
A statement said Man In The Mirror "celebrates the amazing music of the King of Pop, Michael Jackson,  in a high octane theatrical spectacular that spans over three decades  of the greatest hits in pop history".
It is due to head to the UK in the summer. A musical called Thriller is already a hit in London's West End.
(by Jason Gregory)