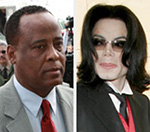 Michael Jackson
's doctor was unable to provide the singer with proper treatment because he was distracted by his love life, according to court papers.
Prosecutors have claimed they can provide evidence that Dr Conrad Murray was using his phone to contact three different women shortly before his death.
One conversation with a cocktail waitress is said to have only ended when Dr Murray realised Jackson wasn't breathing.
In the court papers filed on Thursday (April 15) it was also alleged that Dr Murray had been bragging about working with the singer - a violation of doctor-patient confidentiality.
The prosecution is trying to persuade the judge to allow the evidence to be used at Dr Murray's trial for involuntary manslaughter, reports the Associated Press.
Jackson's personal physician, who was working with him ahead of his ill-fated comeback gigs, has pleaded not guilt to the charge. His defence want the evidence banned.
(by Jason Gregory)