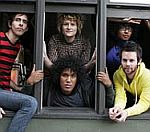 Black Kids
recorded an online session for Yahoo in Los Angeles earlier this week – only to be told afterwards that they had played through an earthquake.
The band were performing 'I'm Not Gonna Teach Your Boyfriend' when the quake, which had a magnitude of 5.8, struck the southern half of the city on Tuesday (July 29th).
Despite lasting for 45 seconds, it was only the band's drummer Kevin Snow who felt it.
Speaking about the incident, frontman Reggie Youngblood said: "I saw the photographer make a startled face, and thought, 'Lady, it's a good tune, but really'.
"I was embarrassed by my smugness when we were told that there was an earthquake."
It's understood that the band will still publish the unique recording, which has been coined the earthquake take.
The city was said to have "dodged a bullet" in the quake, which only caused minor injuries and little damage.
(by Jason Gregory)