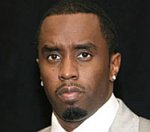 P Diddy
has revealed that he is a huge Arctic Monkey's fan and that he hopes to sign the band to his Bad Boy label.
The rap mogul says signing the band to his label in America could be "the future of the Monkeys".
Speaking in a joint video blog with the band's drummer Matt Helders, Diddy announced: "Yo, what's up? It's your boy Diddy. I am the newest member of the Arctic Monkeys.
"Now I'm not going to be singing. I'm not going to be playing any instruments, but I am part of the crew. I'm part of the entourage."
He added: "So if y'all fuck with the Arctic Monkeys then y'all got to fuck with me. A lot of people probably don't know this, but I am probably the biggest Arctic Monkeys fan.
"So when I met this guy (Helders) it was like a dream come true and he's the biggest Puff Daddy fan in the world. We having a bromance."
(by Daniel Melia)