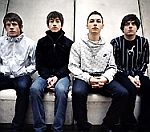 Arctic Monkeys
drummer Matt Helders has revealed that the band's third album will be influenced by spaghetti westerns.
The Sheffield group recently returned from recording sessions at the Joshua Tree studio in California alongside Queens of the Stone Age frontman Josh Homme.
Speaking to BBC 6Music about their sessions in the desert, Helders said: "I don't know whether the desert had much of an influence on the sounds, but it must have done across the lines because like I say, it had an effect on us.
"So maybe subconsciously there'll be some 'spaghetti' in there."
The drummer also revealed that the band would be returning to the studio to record with Homme again when their schedules allow them.
"We don't know yet, when he can fit it in or when we can fit it in," he said.
"I think we're gonna spend a bit of time listening to what we just did there and see how we feel and what we wanna do next."
Arctic Monkeys have yet to confirm when they plan to release their as-yet-untitled third album.
(by Jason Gregory)