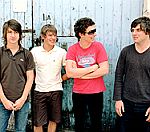 Arctic Monkeys
members Alex Turner, Matt Helders, Nick O'Mally and Jamie Cook attended the world premiere of their concert film last night (October 7th).
The band joined the film's director Richard Ayoada at the Rex Cinema in London.
'Live At The Apollo' documents the bands performance at the Manchester Apollo last December, which concluded their UK tour.
In addition to a DVD release on November 3rd, the live performance will be broadcast at various independent and Vue cinemas around the UK on October 14th.
As previously reported, Arctic Monkeys confirmed today that Queens of the Stoneage frontman Josh Homme is producing their third album.
The tracklist for the DVD is:
Brianstorm

This House Is A Circus

Teddy Picker

I Bet You Look Good On The Dancefloor

Dancing Shoes

From The Ritz To The Rubble

Fake Tales Of San Francisco

Balaclava

When The Sun Goes Down

Nettles

D Is For Danger

Leave Before The Lights Come On

Fluorescent Adolescent

Still Take You Home

Da Frame 2R

Plastic Tramp

505

Do Me A Favour

A Certain Romance

(by Jason Gregory)







See also:

Arctic Monkeys Cook Up A Storm In LA

(28.04.2011)

Arctic Monkeys 'Suck It And See' Album Cover Revealed

(20.04.2011)

Arctic Monkeys' Matt Helders Loses Out On 40,000 Pounds

(20.04.2011)

Arctic Monkeys Plan November Tour

(12.04.2011)

Arctic Monkeys Debut New Single 'Don't Sit Down 'Cause I've Moved Your Chair'

(12.04.2011)

Arctic Monkeys New Single 'Don't Sit Down' Appears Online

(07.04.2011)

Arctic Monkeys Announce First Single From 'Suck It And See'

(31.03.2011)

Queens Of The Stone Age's Josh Homme To Appear On Arctic Monkeys' Album 'Suck It And See'

(30.03.2011)

Arctic Monkeys' Alex Turner: I Want To Write The Soundtrack For James Bond Film

(16.03.2011)

Arctic Monkeys Announce New Album 'Suck It And See'

(10.03.2011)

Arctic Monkeys New Song 'Brick By Brick' Emerges Online

(05.03.2011)




Arctic Monkeys. All news for this artist