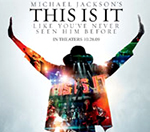 Michael Jackson
's This Is It movie has topped the UK box office.
The film, which shows footage of the singer's final days, took £4.9million in its opening five days.
This Is It also number one at the US box office and has so far grossed more than $101million worldwide
As previously reported, the film's two-week run has now been extended through November in the UK.
"With this kind of global response, it's clear that the motion picture deserves an extended run", said Jeff Blake, chairman of Sony Pictures Worldwide Marketing & Distribution.
The This Is It movie takes its name from Jackson's scheduled comeback gigs, which were due to take place over 50 dates in London.
The singer died on June 25 in Los Angeles just two weeks before his tour was set to begin.
(by Jason Gregory)