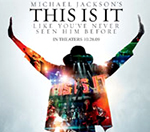 Michael Jackson
's 'This Is It' has topped the box office in the US after its first week of release.
The film has grossed an impressive $21million in its first five days of release since it premiered last Wednesday (October 28), knocking low budget horror movie 'Paranormal Activity' from number one.
It has now notched up sales of $101million globally since its release.
Thanks to its huge success, Sony Pictures have extended 'This Is It's original two week run to a whole month. It's now scheduled to finish at cinemas on November 29.
Sony Pictures also confirmed last Thursday that it planned to submit the movie in the Best Picture category.
(by Scott Colothan)