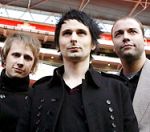 Muse
frontman Matt Bellamy has expressed an interest in collaborating with
Does It offend You, Yeah?
Speaking to the BBC, Bellamy said that he had responded to an approach from the band a year ago but that they hadn't replied.
"They emailed me something ages ago, this must have been a year ago, and I did play something," he said.
"I think I emailed it back to them and I never heard anything so I'm not sure if they got it or the part wasn't good enough, I don't know!"
Despite not hearing anything, Bellamy added that he'd still like to do something. "I'd like to do a little collaboration. I think they're really good," he said.
(by Jason Gregory)