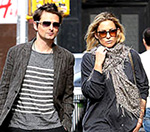 Muse
frontman Matt Bellamy and girlfriend Kate Hudson have got engaged.
Hudson, who is pregnant with their first child, announced their plans to wed during an appearance on The Today Show today (April 27).
The 32-year-old was forced into confirming their engagement when presenter Matt Lauer noticed a ring on her wedding finger. She said they didn't know when they would get married.
"I haven't really announced it, I was waiting for someone to notice," she said, adding that the "very romatic" proposal took place in New York last week.
Hudson and Bellamy met at last year's Coachella festival and announced that Hudson was pregnant in January this year.
(by Jason Gregory)