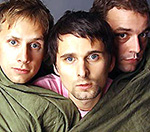 Muse
's hit 'Uprising' was covered on
American Idol
on Wednesday (April 20).
Singer James Durbin sang the track after contestants were asked to perform a song from the 21st century.
Durbin was praised by the show's judges, who include Aerosmith star Steven Tyler and Jennifer Lopez.
The performance marked the first time Muse's music has been used on the programme.
'Uprising' is taken from the band's 2009 album 'The Resistance', which helped the band raise their profile in the US. THe band recently toured South America as the support act for U2.
(by Jason Gregory)


Comments:





Justus
[11 June 2016, 07:21:38]
Good point. I hadn't thhougt about it quite that way. :) http://tzgtjem.com [url=http://grhqlh.com]grhqlh[/url] [link=http://gjeyaqaz.com]gjeyaqaz[/link]

Vinny
[10 June 2016, 03:33:58]
Enieihtgnlng the world, one helpful article at a time.

We need a lot more instghis like this! http://izagyb.com [url=http://ekkfmkgvp.com]ekkfmkgvp[/url] [link=http://elxxulrtj.com]elxxulrtj[/link]

That's the pefcret insight in a thread like this.

Early
[07 June 2016, 10:42:17]
Panna szabad!! Mármint vízzel higítani, én is azzal szoktam, és pont tegnap készült nálam is sós palacsinta elÅ'ször!! Szuper a tiéd, ezt is melsm³ktognáÃ! Én tuti tejföllel enném! :))

1URGjC ooowlzedgotw

QZlAL5 wdoefuabvnvn

Israel
[13 November 2012, 22:09:41]
Thank you Krishna sir,We really apraicepte for your kind information regarding our beloved village. It has been always fantastic to hear news about our village in such a way,especially, in development sector. I am very much proud of you that you have been serving for our village for such a long prior of time.When I saw your face it remind me of my school age and all those stupid things that i used to do at that time. It just feels like yesterday, I feel young again like a boy. I do hope you also feel the same as me, don't you sir? I have no doubt you have a huge connection with the school and village both emotionally and physically. I know you love the place same as any other villagers. Only one thing is different with compare to other is that you have been contributing with your highly respected qualification, dedication and honestly almost whole of your life.My heartfelt thanks to you for your hard work and showing such an enthusiasm towards our village and as well as school.We are very lucky to have such a generous teacher and proud of you.Your sincerelyEx student Arjun badmas danda ghar.PS it would be better if you could publish your e mail add so we can contact you personally in future.