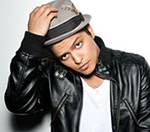 Bruno Mars
has revealed that he would like to collaborate with
Arctic Monkeys
.
The US singer, who played his debut UK gig in London last night, said he was a big fan of the Sheffield band.
"I've been telling everyone this side of London I love the Arctic Monkeys. I'd love to just get in with them and see what happens," he told BBC Newsbeat.
"I can just tell listening to their music, I feel like we have the same influences. I mean their music doesn't sound anything like mine but I just love the aggression, and - what's the best word? - the viciousness sometimes."
Mars also praised frontman Alex Turner as a "great singer".
Meanwhile, the singer has announced that his debut album will be called 'Doo – Wops And Hooligans'.
The US singer is set to release his much-anticipated LP in early 2011. The single 'Just The Way You Are' is released on October 4.
(by Jason Gregory)