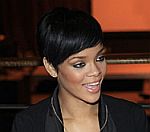 Rihanna
's 'Take A Bow' looks set to make a near record climb up the Billboard Hot 100 today (May 15th) – moving from number 53 to number 1.
The massive climb is thanks to first week digital-download sales in excess of 267,000 copies.
Maroon 5 currently hold the record for the biggest one week climb with 'Makes Me Wonder' - which climbed from 64 to number 1 last year.
'Take A Bow's' opening week sales figures mean that Rihanna now has two of the top three biggest opening week download counts in US chart history.
The singer's smash hit 'Umbrella' was downloaded 277,000 times in its opening week last June, while Mariah Carey's 'Touch My Body' tops the list with 286,000 copies.
(by Jason Gregory)