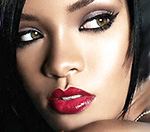 Rihanna
has revealed that she didn't like friend
Katy Perry
's husband
Russell Brand
when she first met him.
The singer had her first introduction to the British comedian-turned-actor when he interviewed her on a TV show.
In an interview with Australian magazine Cleo, Rihanna said she was feeling unwell before the interview and that Brand didn't make her feel any better.
She said: "I was sick and it was the worst interview I've ever done. I was throwing up in a bucket and a doctor gave me a shot in my butt.
"Nothing was funny to me. I thought it was the most stupid f*cking interview I ever did in my f*cking life. Why am I talking to this idiot? He made me want to throw up again."
But Rihanna went on to admit that she found Brand funny after a second encounter on another TV show.
"I was probably a complete b*tch, but only months afterwards did I get it," she added.
Rihanna and Perry are close friends, and the singer was responsible for organising Perry's hen do last year.
(by Jason Gregory)