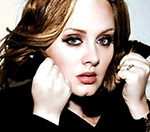 Adele
has admitted that she likes seeing
Lady Gaga
and
Katy Perry
's boobs and bum.
The singer, who returned to the top of the US chart with '21' this week, said that she doesn't mind when other female singers show of their bodies but that she never will.
"I don't like going to the gym. I like eating fine foods and drinking nice wine. Even if I had a really good figure, I don't think I'd get my tits and ass out for no one," Adele told Rolling Stone.
She added: "I love seeing Lady Gaga's boobs and bum. I love seeing Katy Perry's boobs and bum. Love it. But that's not what my music is about. I don't make music for eyes. I make music for ears."
Adele's recent chart success has helped boost music market sales, it has been revealed.
(by Holly Frith)