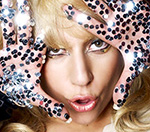 Lady Gaga
has confirmed that the video for her new single 'Judas' will debut next week.
The singer revealed details about the high-anticipated clip during the latest instalment of her video series, Gagavision.
"The 'Judas' video is coming next week. Let the cultural baptism begin," she said.
Earlier this week, Lady Gaga's record label Interscope said the singer's video would debut on American Idol on May 2. The singer has described it as a celebration of faith.
Meanwhile, Gagavision no. 44 also featured an excerpt of a new track from her forthcoming album 'Born This Way', due out next month. It's title is not known.
You can watch Gagavision no. 44 below:
(by Jason Gregory)