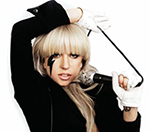 Lady Gaga
has joked that she will call the "Twitter police" if people continue to hack her Twitter account.
The warning comes after an intruder started posting cryptic Spanish tweets on her feed earlier today (April 27), including one update which name-checked Shakira.
After deleting the posts, Lady Gaga wrote: "Whoever is hacking my Twitter must answer to 10 million monsters and Twitter police. #Don'tMakeMeCallTheApostles."
Meanwhile, the singer has also revealed that Gagavision no. 44 - her behind the scenes video series - would be released today.
The episode commemorates the final date on the North American leg of her Monster Ball world tour.
(by Jason Gregory)