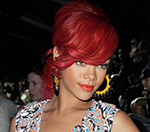 Rihanna
has achieved her tenth number one with remix single 'S&M'.
The singer, who collaborated with Britney Spears on the remix track, has topped the US Billboard chart again.
Combined sales from the original version of 'S&M' and the remix have taken the singer to number one, reports Billboard.
Rihanna revealed the news about the collaboration over her Twitter: "I got a #SEXY collabo comin your way supa dupa soon!!!! OH YEAH!!! By popular demand. Its BRITNEY BITCH!!!! One of the biggest worldwide popstars! U gangsta #EPIC (sic),"
Rihanna now holds the record for having ten number one singles on the US chart in the shortest time span by any artist.
Meanwhile, Beyonce has collaborated with Rihanna on her new album, it has been reported.
(by Holly Frith)