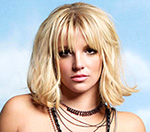 Britney Spears
has collaborated with
Rihanna
on a remix track.
The singer, who released her anticipated new album 'Femme Fatale' last month (March 28), will appear on a remix version of Rihanna's 'S&M'.
Rihanna revealed the news over her Twitter: "I got a #SEXY collabo comin your way supa dupa soon!!!! OH YEAH!!! By popular demand. Its BRITNEY BITCH!!!! One of the biggest worldwide popstars! U gangsta #EPIC (sic),"
Britney Spears responded: "You're such a tease! I like it, like it.... You think they're ready Ri Ri?... -Britney."
You can listen to it now at z100.com.
(by Holly Frith)