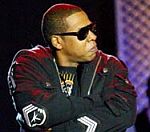 US rapper
Jay-Z
has completed a huge all-encompassing deal with concert promoter Live Nation, according to reports.
The deal, reported to be worth $150million, sees the formation of Roc Nation – a joint venture between the two parties.
Live Nation will take control of the rapper's business and recording assets as part of the agreement.
According to Billboard, Jay-Z, whose real name is Shawn Carter, will be paid $10million per album in a three album deal.
Live Nation has already assumed control of the rapper's current co-headlining tour with Mary J Blige.
Carter and Live Nation were initially linked in a report in the New York Times on April 2nd.
Madonna became the first artist to sign an all-encompassing deal with the promoter last year.
(by Jason Gregory)