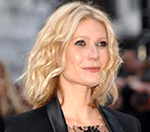 Gwyneth Paltrow
has revealed that she has a passion for hip-hop and
Nirvana
.
The actress, who is married to Coldplay's Chris Martin, spoke about her music tastes during an interview with friend, Jay-Z.
Paltrow said she was first exposed to hip-hop when she was 16 and that she idolised collectives like Public Enemy, Run-DMC and NWA.
She told Jay-Z: "I was fascinated by lyrics as rhythm and how [Dr] Dre had a such different cadence and perspective from say, Eazy-E, who I thought was one of the most ironic and brilliant voices hip-hop has ever had."
Jay-Z, who admitted he was surprised by Paltrow's knowledge of lyrics, then asked if her obsession extended in other genres.
"Aside from hip-hop I loved, I was very into alternative stuff like New Order (which did become pretty mainstream) and The Cure and bands like Yaz and Book of Love," she said.
"But when Nirvana came out, my mind was kind of blown."
She added: "I remember sitting around a record player playing 'Nevermind' for days in a row with my college friends really mesmerized by that record, as everybody was at the time. I couldn't believe my ears."
Paltrow spoke to Jay-Z during an interview on his new website, Life + Times.
(by Jason Gregory)