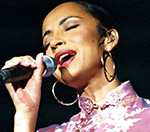 Jay-Z
has recorded a guest rap for a new song by
Sade
, which you can hear now.
The ballad, entitled 'The Moon And The Sky', has been recorded for the singer's new hits retrospective, 'The Ultimate Collection'.
The album is released on May 3 and also includes the previously unheard new songs, 'Still in Love With You', 'Love Is Found' and 'I Would Never Have Guessed'.
Sade release the studio album 'Soldier Of Love' in 2010.
The tracklisting for 'The Ultimate Collection' is:
Disc 1:
Your Love Is King

Smooth Operator

Hang On to Your Love

The Sweetest Taboo

Is It a Crime

Never as Good as the First Time

Jezebel

Love Is Stronger Than Pride

Paradise

Nothing Can Come Between Us

No Ordinary Love

Kiss of Life

Feel No Pain

Bullet Proof Soul
Disc 2:
Cherish the Day

Pearls

By Your Side

Immigrant

Flow

King of Sorrow

The Sweetest Gift

Soldier of Love

The Moon and the Sky

Babyfather

Still in Love With You

Love Is Found

I Would Never Have Guessed

The Moon and the Sky (Remix Featuring Jay-Z)

By Your Side (Neptunes Remix)
Sade feat. Jay-Z - 'The Moon And The Sky':
(by Jason Gregory)