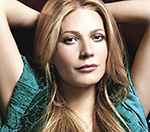 Gwyneth Paltrow
has revealed that she would like to recod a duet with
Jay-Z
.
The actress, who is married to Coldplay's Chris Martin, spoke about her dream collaboration at the Oscars in Los Angeles.
"I think we'd be a good combination," Paltrow told Project Runway mentor Tim Gunn on the red carpet last night (February 27). "He is a genius - and I'm his biggest fan."
Paltrow was then asked what Martin, who has also worked with Jay-Z, would think of her answer, and replied: "I think very happy."
The actress has turned her hand to singing and recently recorded a cover of Cee Lo Green's 'Forget You'. She has also appeared in the hit US TV show, Glee.
(by Jason Gregory)