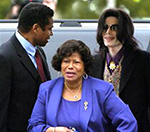 Michael Jackson
's family have been given permission to proceed in their lawsuit against concert promoter AEG Live.
The lawsuit in question accuses AEG of being firstly responsible for the decisions made by Michael Jackson's doctor Dr Conrad Murray, who was funded by the promoter, reports Reuters.
Dr Murray is accused of administering Jackson with a lethal dose of the anaesthetic propofol on the day that he died in June 2009.
Last week (January 25) Murray pleaded not guilty to the charges made against him. He has admitted giving the King of Pop the drug but said he did not give the star enough to kill him.
Court Judge Yvette Palazuelo told the Jackson family that they would have to show evidence of fraud, negligent infliction of emotional distress and civil conspiracy by AEG Live.
Dr Murray, who was working with Jackson ahead of his ill-fated comeback gigs, could face four years in prison if convicted.
(by Holly Frith)