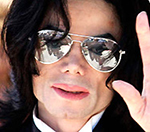 Michael Jackson
's Moonwalk glove fetched $350,000 (£212,000) at auction in New York on Saturday.
The rhinestone encrusted glove is regarded as the ultimate piece of Jackson memorabilia and was snapped up by Hong Kong businessman Hoffman Ma on behalf of a hotel in Macau China where it will be on permanent display.
Jackson first Moonwalked while wearing the glove on Motown's 25th Anniversary Special TV show in May 1983.
Elsewhere in the auction, which sold 70 lots, a jacket worn by Jackson on the Bad Tour in 1989 sold for $225,000 and a fedora hat for $22,000.
Auctioneer Darren Julien said: "It's a tribute to his life and career - he's truly an amazing artist."
(by Scott Colothan)