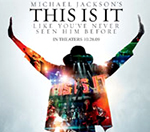 The soundtrack to
Michael Jackson
's This Is It movie has topped the US Billboard album chart.
The album, which includes the late singer's biggest hits, sold 373,000 copies in its opening week.
'This Is It' is Jackson's most successful record since 1995's 'HIStory', which shifted 391,000 in its first seven days.
Sales of the soundtrack were boosted by its simultaneous release alongside the film, which is number one at the US and UK box office.
Directed by Kenny Ortega, This Is It shows Jackson rehearsing for his ill-fated comeback gigs in London.
The singer died on June 25 in Los Angeles just two weeks before his tour was set to begin.
(by Jason Gregory)