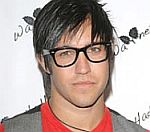 Fall Out Boy
's Pete Wentz has dropped the bombshell that he tried to commit suicide a few years ago.
The bassist revealed that he was mentally out of control at the time and he was close to taking his life by taking an overdose of an anti-anxiety prescription drug called Ativan.
He told MTV: "I got in my car. I remember I was listening to Jeff Buckley doing Leonard Cohen's 'Hallelujah' and sat there and took a bunch of Ativan in a Best Buy parking lot.
"I called up my manager because I was, at that point, completely out of my head with Ativan. And I was talking to him and I was slurring my words, so he called my mom and my mom called me and she came and got me and we went to the hospital."
Fortunately Pete recovered from the bout of depression and went on to become a multi-million selling rock star and date Ashlee Simpson.
(by Scott Colothan)