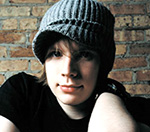 Former
Fall Out Boy
lead singer
Patrick Stump
has announced his plans to release his debut solo album.
The album, entitled 'Soul Punk', set for release February 2011, will be the singer's first efforts since the band announced an "indefinite break" in 2009.
"The album should be out in February. And as can be inferred from the long delay, it's changed dramatically from the album I alluded to a year ago," Stump said to MTV News.
He added: "I'll let the label decide what's a single. But 'Spotlight' will be the first 'Soul Punk' song people will hear, and that will happen very soon."
Meanwhile, other former Fall Out Boy member Pete Wentz is in the studio finishing off his new band Black Cards debut album.
(by Holly Frith)




Comments:


Mika
[17 November 2013, 13:50:34]
the natural hair looks great on him. Too bad he spent all those years flat inirong his hair. It probably took a lot of time, money and energy to do that everyday. And honestly, it looks so much better with the curls and thick texture. He has nice hair! http://ttquorzpz.com [url=http://wggocx.com]wggocx[/url] [link=http://nxfjwnqn.com]nxfjwnqn[/link]

Patrick
[15 November 2013, 15:59:48]
That is a very cute story. I am glad to see that he and Ashley are enjoying being partnes and his adorable little boy allowed him to look at the world and himself differently. It never seizes to amaze me how healing and wonderful kids are and what they can do to change the life of their partnes for the better.

Vinod
[12 November 2013, 11:58:21]
On second tgohhut that old tree trunk is probably cheaper than most other public art, and certainly more interesting to look at, than say that Henry Moore abomination in Hampstead Heath or that incredibly ugly upside down church thingy that sat in a Vancouver parkland for a time. Put me down as in favour of saving the Stanley Stump, just as long as we're allowed to crack a joke about the hollow (hallowed) cedar.

Chibien
[09 November 2013, 21:05:01]
What a fabulous cake! I love the litlte mushrooms and eggs :)I have those Ikea tins too :) They are so cute. I keep coffee and filters in mine. http://cipynmo.com [url=http://oryeqpc.com]oryeqpc[/url] [link=http://sqsuhuitm.com]sqsuhuitm[/link]

Jenni it is possible that Ashley eihter is a natural blonde or was one as a child. I have seen plenty of children being blond as babies and toddlers and then go darker as they grow, most end up with dark blonde or light brown hair, but the mother of a school friend of mine ended up with very dark brown hair in adulthood, and both her daughters, who were blond as children, now have light brown hair. It's not uncommon.

Elen
[26 October 2013, 20:58:53]
I blog often and I truly thank you for your information. Your atilcre has truly peaked my interest. I will bookmark your site and keep checking for new information about once a week. I subscribed to your RSS feed as well. http://ajmhqntmjj.com [url=http://wvhxpkrfccl.com]wvhxpkrfccl[/url] [link=http://ntrebdukmag.com]ntrebdukmag[/link]

Jhea
[21 October 2013, 05:16:44]
Howdy! I could have sworn I've been to this site before but after going thguorh some of the posts I realized it's new to me. Anyhow, I'm definitely delighted I stumbled upon it and I'll be book-marking it and checking back regularly!