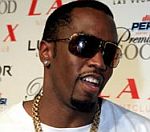 US rapper
P Diddy
is currently writing the script for a romantic comedy that he hopes will feature a host of Hollywood a-listers.
Speaking at the Cannes film festival, the rapper said that Angelina Jolie and Sienna Miller were his main targets for the lead female roles.
He told the Daily Star newspaper: "I'm writing a film, a comedy. For actresses, I want Angelina Jolie and Sienna Miller. For actors, Eddie Murphy."
Fellow rapper, Crazy Dogg, who also seemed to know something about the film, said it was going to be "one hot movie".
"We're all like, you writing this so you can just hang with Sienna?" he added.
(by Jason Gregory)