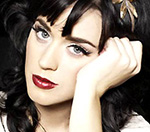 Katy Perry
and P Diddy have backed a campaign by the Red Cross to help the victims of the earthquake and tsunami in Japan.
Chris Brown has also taken to Twitter to call on people to "pray for Japan" following the devastating 8.9-magnitude quake last Friday (March 11).
On Twitter, Perry said: "Remember as you go about your day please #prayforjapan & if you are able, text REDCROSS to 90999 to donate $10 to Japan's emergency relief."
P Diddy wrote: "EVERYONE KEEP TEXTING!! The quake & tsunami victims in Japan NEED US!!!"
Meanwhile, as previously reported, Lady Gaga has designed a 'We Pray For Japan' wristeband, which is due to go on sale next week.
Rihanna also wrote on Twitter: "Let's continue to keep the people of Japan in our prayers! We are all heartbroken for u..."
More than 1000 were killed in the disaster, although that figure is expected to rise.
(by Jason Gregory)